Island LawnCare's First Annual "Best Christmas Display" Contest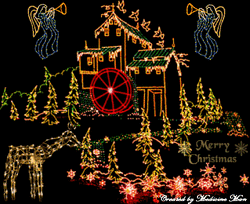 ---
Rules
1. All entries must be nominated by filling out and submitting the form below. You can nominate yourself or anybody else, house, or business. Must provide a valid email address.
2. We ask you to "Like" our Facebook page before you nominate someone. Click here to "Like our page"
3. Property you are nominating must be located on Kent Island with a Stevensville or Chester zip code.
4. All nominations must be submitted by 3:00pm on December 22, 2013 using the form below.
5. Three judges will be selected and announced by Island LawnCare representatives prior to judging date.
6. Drive by judging will take place December 22, 2013 through December 24, 2013 during the hours of 7:00pm-8:30pm. Judges will select a winner based on best over all display.

(Make sure your lights are on and displays are operating all three days during the above hours)
.
7. Winner will be announced and notified at 8:30pm December 24, 2013 (Christmas Eve) and will receive an awesome one of a kind engraved trophy, one month of free lawn care (up to $200 value, valid April 15, 2014 thru November 15, 2014), announcement and picture of winning display featured on the Island LawnCare home page, as well as other local media outlets and of course, bragging rights for one year. Runners up will be recognized and may win prizes based on sponsorship donations.